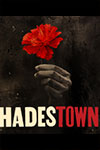 Hadestown
Walter Kerr Theatre
Precio desde COL$ 412465
Hadestown, the acclaimed new musical by celebrated singer-songwriter Anaïs Mitchell, developed with and directed by Tony Award nominee Rachel Chavkin, arrives on Broadway this Spring.

Highlights:
- Experience Hadestown live on Broadway
- Enjoy this genre-defying new musical
- Listen to the mix of modern folk music and vintage jazz
- Get the best seats available in your chosen section

Hadestown live on Broadway
Ms. Mitchell and director Ms. Chavkin have transformed Mitchell's acclaimed concept album into a genre-defying new musical that mixes modern American folk music with vintage New Orleans jazz to reimagine a sweeping ancient tale.

In the warmth of summertime, songwriter Orpheus and his muse Eurydice are living it up and falling in love. But as winter approaches, reality sets in: these young dreamers cannot survive on songs alone.

Tempted by the promise of plenty, Eurydice is lured to the depths of industrial Hadestown. On a quest to save her, Orpheus journeys to the underworld where their trust in each other is put to a final test.

How do I get my tickets?
Shortly after your order is complete, you will receive an e-ticket sent to the email address entered of time of booking. Just print out your ticket and bring it with you to the theater.